News
News in the art life..
.
.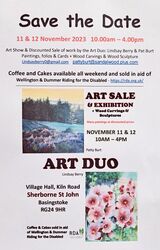 We are exhibiting our artwork along with Wood Sculptures and Carvings by our family. Due to the economic climate and Christmas approaching many of our paintings will be at discounted rates. A Silent Auction and Coffee, tea and cakes will be on sale with profits going towards the Wellington & Dummer Riding for the Disabled
...more
Royal Hampshire County Hospital Spring Exhibition (Wincheser Art Club)
Artwork hung in the main corridor.
A percentage of sales goes towards raising funds for The Magic Wand Appeal improving facilities in the Children's Unit
DC & Friends Art
25 September - 1 October
Denbies Wine Estate
Bradley Ln, Dorking RH5 6AA
...more
Very happy to be awarded one of the top 200 Merit Awards out of 3725 entrants worldwide.
...more
Showing a changing collection of my work
...more
A Care for Casualties fund raising project
...more
Interviewed by ITV re branding London
My trip to London to see the Threadneedle Prize turned up more than I bargained for.....Paste this and watch me being interviewed:
http://www.itv.com/news/london/update/2013-10-04/londoners-back-city-logo/
AN ODD BOY by Doc Togden
Autobiographical partial life story of a friend from my childhood, Doc Togden who was always interested in blues, art, westerns, and Buddhism. An interesting and nostalgic read of the 60's and life including the tragic death of his blues group "Savage Cabbage" All volumes are now available on
Amazon