News
News in the art life..
.
.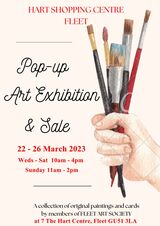 Open for just 5 days - A cornucopia of beautiful artworks for you to browse and purchase
7 The Hart Centre, Fleet GU51 3LA
...more
The Base, Greenham
Pleased to have one of my works accepted for this Art Exhibition
Celebrating all things arts and crafts with us at our Festival of Arts & Crafts featuring a vibrant Arts & Craft Fair 1-2 April, creative Taster Workshops throughout and a stunning Festival of Art Exhibition from Saturday 1 to Sunday 16 April featuring local artists' work.
url="https://thebasegreenham.co.uk/" new="true"]MORE INFO HERE...
AppArt Annual Art Exhibition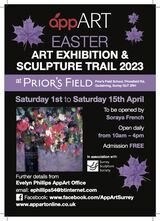 Very happy to be included in this delightful exhibition, an art and sculpture initiative designed to encourage interest and participation in the visual arts.
Prior's Field School, Godalming, GU7 2RH
Farnham Art Society Annual Exhibition
Annual Exhibition & part of Surrey Open Studios exhibiting both 2D & 3D artwork
27th May - 4th June
Weydon School, Weydon Ln, Farnham GU9 8UG
DC & Friends Art
12 June – 02 July 2023
Denbies Wine Estate
Bradley Ln, Dorking RH5 6AA
...more
Winchester Art Exhibition November 2022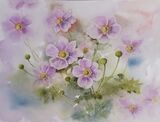 The ARC, Winchester
My prize winning entry
CHRISTCHURCH CROOKHAM ART FESTIVAL
Art & Music...for details click
here
Royal Hampshire County Hospital - Main Corridor
Art raising funds for The Magic Wand Appeal improving facilities in the Children's Unit
Very happy to be awarded one of the top 200 Merit Awards out of 3725 entrants worldwide.
...more
Showing a changing collection of my work
...more
A Care for Casualties fund raising project
...more
Interviewed by ITV re branding London
My trip to London to see the Threadneedle Prize turned up more than I bargained for.....Paste this and watch me being interviewed:
http://www.itv.com/news/london/update/2013-10-04/londoners-back-city-logo/
AN ODD BOY by Doc Togden
Autobiographical partial life story of a friend from my childhood, Doc Togden who was always interested in blues, art, westerns, and Buddhism. An interesting and nostalgic read of the 60's and life including the tragic death of his blues group "Savage Cabbage" All volumes are now available on
Amazon